Tara Labs - The Absolute Reference Audio
TARA Labs is known as the worlds' leading manufacturer of high-end audio cables. For almost thirty years, TARA Labs' commitment to quality and craftsmanship has enabled us to cater to the purest of audiophiles and music aficionados throughout the world. TARA Labs continues to lead the high-end audio cable industry in innovative technology and designs. All cables are manufactured in our facility in Ashland, Oregon, USA.


TARA Labs offers Rectangular Solid Core (RSC) interconnects and speaker cables. They have become the reference standard for reviewers and serious audiophiles the world over due to their extremely accurate, neutral and frequency linear performance. Another industry first is TARA Labs' propriety annealing process, known as the RSC Gen 2 Conductor / SA-OF8N 99.999999% copper (Super-annealed, oxygen-free, mono-crystal, eight nines pure hand-polished copper). This creates a unique, long, unbroken crystal structure called "mono-crystal" which has exquisitely smooth and detailed transfer of frequencies over a very wide bandwidth. And, finally, TARA Labs offers the ultimate in cable design and engineering, the RSC Conductor.
Why Rectangular?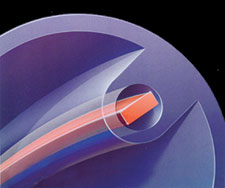 Tara Labs RSC Conductors
Our patented RSC conductors have become the definitive technology in high-end audio cables. The rectangular shape offers a unique advantage over round conductors. They have the necessary mass for solid bass, yet are thin enough for a coherent reproduction of mid-range and high frequencies. The RSC is not subject to the same high frequency losses that hamper traditional round conductors. To further understand the principle behind RSC technology, it is necessary to understand a phenomenon known as "skin effect" This principle states that in a round conductor, higher frequencies will tend to travel towards the outside (or skin) of the conductor, while lower frequencies will travel closer to the center of the conductor. The larger the diameter of a round conductor, the worse the effect will be, resulting in a significant roll-off of high frequencies in large gauge conductors. Because of its rectangular cross section, an RSC conductor essentially has no center like a round conductor. Therefore it does not suffer the same high frequency losses. It is the only conductor that is able to combine high current-carrying capability with extreme frequency linearity across the musical spectrum.
Cable Technology

ISM Isolated Shield Matrix
The introduction of the ISM Onboard technology eliminates the need for outboard components on all our ISM Onboard series cables. By utilizing a superior new woven composite dielectric, and design that displaces the shield even further from the conductors, the Onboard capsule exponentially decreases coupling of shield born energy with signal, resulting in a dramatically lowered noise floor. The ISM Onboard capsule is an exceptional in eliminating electromagnetic & radio frequency interference. (EMI/RFI)

RSC Air Design Principles
The new "Isolated Air Tube" from TARA Labs is a proprietary extruded air tube which eliminates the need for the typical dielectric construction commonly used in interconnect cables. Using hollow channels along the inner wall of the main air tube, the positive and negative conductors are isolated from each other with absolutely minimal dielectric minimal dielectric absorption and coloration of the audio signal. No unnecessary dielectric materials fill the space between the conductors. Due to the absence of typical dielectric or insulation construction in the cable. The result is an extremely open and revealing cable, able to transfer subtle detail and ambient information without distortion or coloration.

HFX Floating Ground Station
The HFX Floating ground Station is an extraordinary component that is included with all Zero and Reference Extended Bandwidth cables. TARA Labs proprietary ground station is made of mil-spec aluminum alloy. Our specific metallurgical properties allow for the reduction of RF and electromagnetical resonance; EMI/RFI. It's 18.23% heavier and stronger than aircraft-grade stock. Equipped within the HFX station is a patented ceramic binder called "Cerelex." Because the HFX functions completely outside the signal path, its ability to dissipate and eliminate the effects of EMI/RFI (Electromagnetic interference & Radio frequency interference) which also includes sonic distortion, noise, "snow", and lack of image clarity. The performance of this component, as well as its elegant appearance is quite exceptional.
About Us
The "TARA" in TARA Labs is an acronym for "The Absolute Reference Audio." Since the company's beginnings, TARA Labs has been known among audiophiles as a manufacturer whose cables set the performance standards and whose technological innovations and patents constantly advance the frontiers of the industry.
TARA Labs started in Sydney, Australia in 1986. They began by developing cables and experimenting with different types of conductors. An early result was the Phase II speaker cable which was submitted for review to Stereophile magazine in 1988. The response to the very favorable review from this little-known cable manufacturer was overwhelming. TARA Labs moved to the United States later that year.
The introduction of Rectangular Solid Core® cables in 1992 is an example of the type of innovation that is responsible for the continuing success of TARA Labs. RSC® cables are the only cables in the world to use a solid, extruded conductor with a rectangular cross section. These conductors improve on the performance of regular round solid core conductors by having the current-carrying capability (power) of a large conductor, combined with the frequency linearity (musical accuracy) of a small conductor.
Innovations such as the worlds' first Vacuum Dielectric, Pressure Stranding, as well as the introduction of Isolated Shield Matrix™ technology, which uses the world's first completely isolated, floating interconnect shield and a separate unit called a Floating Ground Station (HFX) to remove radio frequency interference and electromagnetic interference from the audio signal.
Today TARA Labs produces a full range of cables and accessories which are sold through dealers throughout the U.S. and in over 38 countries worldwide. TARA Labs has earned the reputation as having won more professional reviewer awards than any other cables in the world for twenty years.
Awards
The Absolute Sound magazines 2006 & 2010 & 2012 & 2013 "Editors Choice Awards"
The Absolute Sound magazines 2006 & 2007 & 2008 "Product of the Year Award"
Audio Excellence 2007 "AEX" Award, and Absolute Sounds JV "Golden Ear" Awards
Stereophile magazines 2012 "Best-Sounding High-End Audio Products" Award
Stereophile magazines 2012 & 2013 & 2014 "Recommended Components" Awards
Positive Feedback (PF) Online magazine 2007 "Writers Choice" Award
Hi-Fi magazines 2009 "Best Sound at Show" Award
Visual Grand Prix 2008 "1st Place Digital Cable" Award
RMAF/Apex Audio, Absolute Sounds – 2012 "Best Sound at Show"Award
CES/ Ayon 2013 AV Sound "Best Sound" Gold Show Award
Super AV Magazine 2011 & 2012 "Outstanding Overall Performance" Award
Newport/ Ayon 2013 Stereophile "Best Sound" Show Award
RMAF/Apex Audio 2011 "Gold Show Award Room"
Axpona/AV Showroom 2014 "Best Sound" Show Award
The Absolute Sound magazines RMAF/Apex 2014 "Best Sound of Show Cost No Object" Award
The Absolute Sound magazines RMAF/Apex 2014 "Best Analog of Show" Award
Stereophile magazine 2015 "Recommended Components" Award
Positive Feedback "Audio Oasis" Award - RMAF 2015
Positive Feedback Brutus Award 2015 - TARA Labs Omega Evolution Speaker & Power Cables
Positive Feedback Brutus Award 2015 - TARA Labs Zero Evolution Interconnects
Positive Feedback Brutus Award 2015 - TARA Labs Professional Concert Tour Guitar Cable
The Absolute Sound magazines RMAF/Apex 2015 "Best Sound" Award
High Fidelity magazine "Best Sound" Award - Poland Audio/Video Hi-End Show 2015
Audiophile Magazine "Best Hi-Fi Equipment of 2015" Award
In addition, we've received multiple "Recommended Components" awards & positive reviews from Audio Techniques magazine, Hong Kong Journal magazine, Bound for Sound magazine, High Fidelity magazine, The Audiophile Voice magazine, Fi magazine, Hi End Audio Journal magazine, Sonic Review magazine, Home Theater magazine and Sound & Vision magazine. Including the many online publications magazines: 6 Moons, Positive feedback (PF), AV Guide, Audio Review, Head-Fi, Soundstage, Digital Home, etc. TARA Labs has literally hundreds of positive reviews, in multiple languages from prestigious hi-end audio magazines from around the world.
Below is the complete cable list for TARA Labs. This includes; Interconnect cables, Speaker cables, Power cables, Digital cables, Subwoofer cables, Phono cables and Speaker links.
Interconnect Cables

Subwoofer Cables

Phono Cables

Speaker Cables

Digital Cables

Power Cables