Aphrodite's Melody Showroom at Salon Haute Fidelite 2017 (Ledra Marriot Rive Gauche)
2 Systems With Avalon Idea--- Nagra-(Hd Amp ,HD Preamp ,HD Dac ,NAGRA Cd ,MPS, Nagra Phono) ,---YG Acustics ( Sonja 2,2) —TARALABS Muse And 0.8 Cales—Artesania Racks —VIBEX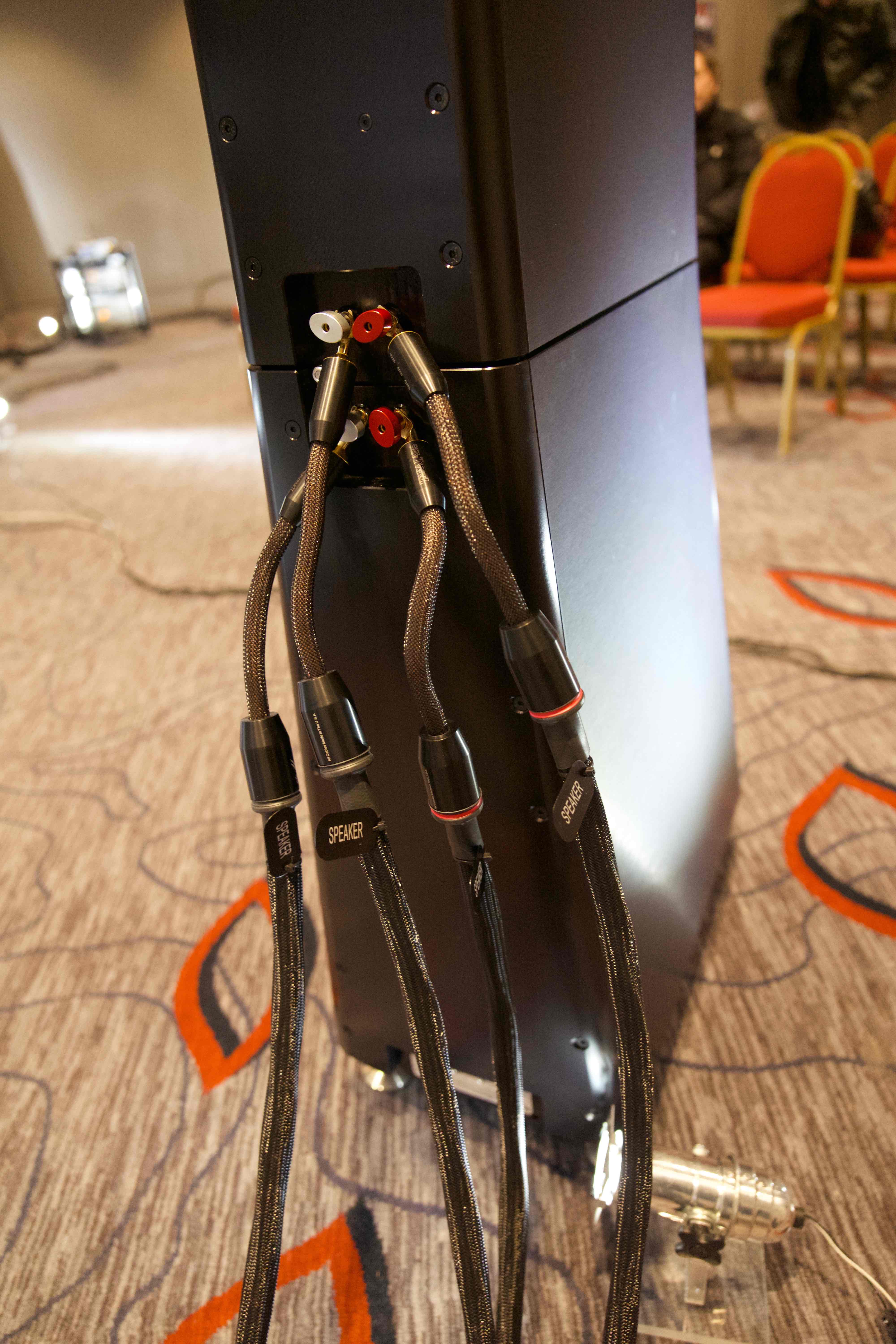 Roksan Trading Co. is now the exclusive distributor for all
TARA Labs audio cables in:
China, Hong Kong, Macau and Taiwan
For more information, please contact TARA Labs or Roksan at: http://www.roksantrading.com.hk/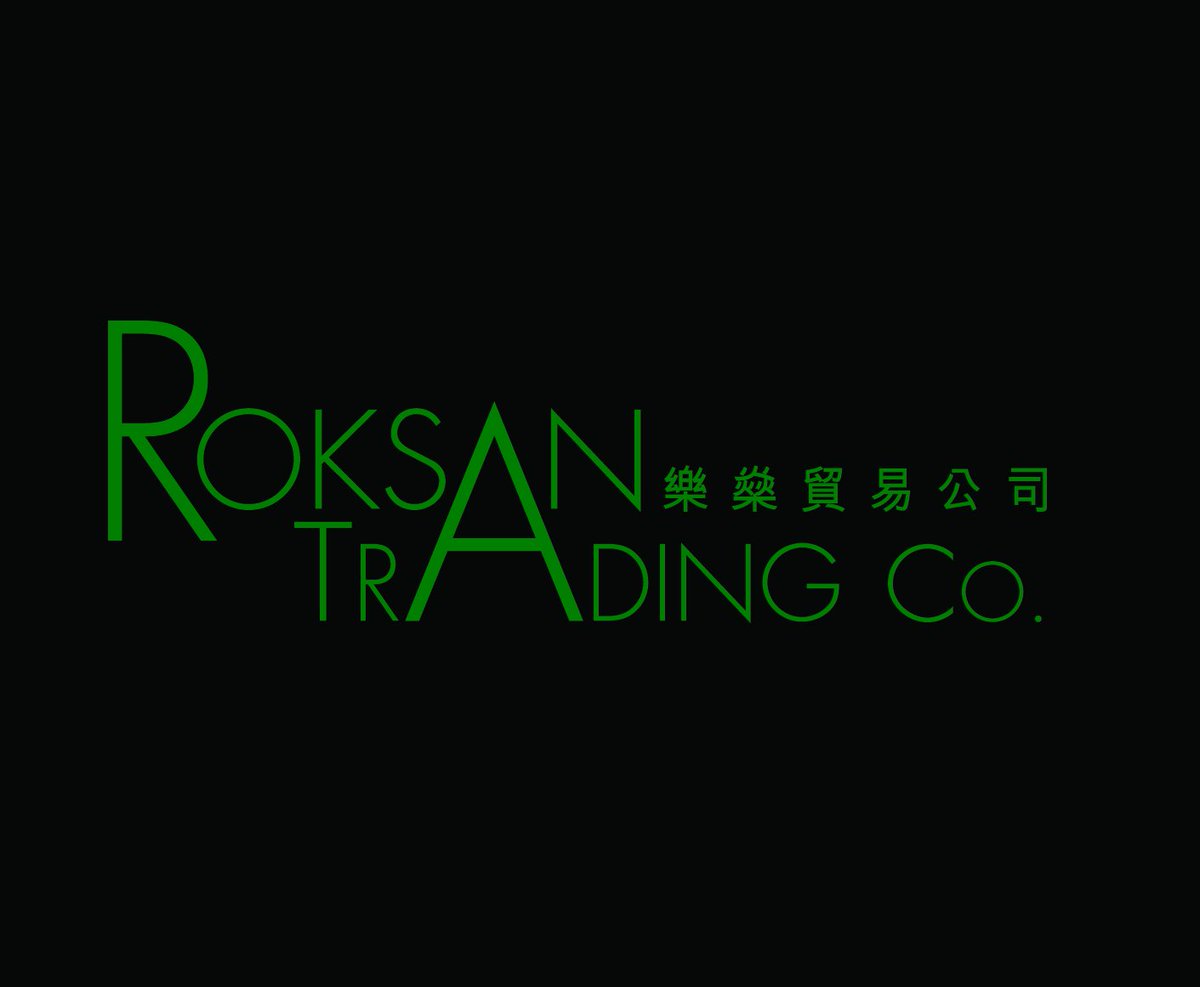 Introducing The Muse Series Audio Cables!
"In a world of audio cable articulations, high frequency extensions, low capacitance, and expansive sound staging, TARA Labs introduces a new cable series with a phenomenal characteristic. And all you need is just one word to describe it: MUSICALITY!!!"
TARA labs Design Team (TLDT) has worked over a year to come up with a cable series that is specifically designed for audiophiles who crave "musicality" in their audio system's sound performance. The Muse has all those characteristics that make TARA labs the very best choice for high-end audio cable performance; Neutrality, expansive sound stage, superb high-frequency extension, as well as being exquisitely revealing of low level ambient and spatial information. But one characteristic shines above all else with the Muse; Musicality!
Most audiophiles can be categorized into two main categories: Those who crave to hear every detail possible of the musical instruments playing. And those who want to close their eyes and imagine they are sitting right in the middle of a live orchestra, while the musicians play music around them. The Muse Series audio cables offer an opportunity for an audiophile to have it all!
What makes the Muse cables sound so good? That would be the construction of the Muse which begins with the precise measuring, machining, and cutting of TARA labs proprietary materials. Beginning with our 99.999999% pure rectangular solid core copper conductors that are super-annealed, oxygen–free, mono-crystal, and frequency-tuned. The conductors are then hand-polished and coated in our proprietary liquid dielectric to prevent oxidation before inserting into PTFE Teflon lumen air tubes. Our senior technicians then assemble these materials into an audio cable that is capable of bringing recorded music as close to live as you can get. TARA Labs legendary HFX floating ground station system is also included with all Muse interconnects.
One of the most impressive attributes of the Muse Series cables is a retail price point that is far below what compatible competitors high-end audio cables cost.
TARA Labs is extremely proud and excited to introduce a brand new high-end audio cables series called, The Muse.
Beginning with the Muse interconnects, this new series will offer the listener a cable that has superb high-frequency extension, as well as being exquisitely revealing of low level ambient and spatial information. You will hear an impressively low noise floor, pin-point imaging with the absence of distortion, which also includes an equally impressive soundstage.
Rounding out this complete audio cable package is a characteristic presence of superb musicality! The listener can expect to hear their music played with such feeling and such emotion, that the performance level of these cables would absolutely alleviate any thoughts of uncertainty or doubt, by even the strongest critics of an audio cables performance.
The Muse series cables will take the listener to places of musicality that very few cables can ever hope to match.
RCA or XLR termination
All PTFE Teflon air dielectric spacers and center tube
Twin axial-design features RSC Gen2 conductors using Aero-PTFE dielectric
HFX Floating Ground Station System
Extremely open and detailed
Expansive 3 dimensional soundstage
Exceptional low noise floor
Superb musciality



Over the years, TARA labs audio cables have been paired with many of the world's high-end components, and always with fabulous results. Magico's new M3 Speaker was introduced at Rocky Mountain Audio Fest 2016 paired with TARA Labs Zero Evolution interconnects & Omega Evolution SP speaker cables. Omega Evolution AC power cables were also used. "I was there, and the sound was fabulous!" Jonathan Valin gave a in review of their performance in The Absolute Sound Sep. 7th, 2016. Magico certainly created a wonderful new loud-speaker. Paired with TARA labs high-end reference cables at the show really created a sound deep in detail, depth, soundstage, and musicality.
TARA labs cables technology has always been one of extremely neutrality. As a listener, you want to hear the music, the way the music was recorded. Audiophiles scour the industry looking to buy components that enable them to hear the music the way it was recorded and intended to be heard. So they buy their favorite amplifiers and pre-amplifiers and DAC's and music sources in search of the "perfect live sound" TARA Labs designs their cables as the perfect medium to pass that sonic information to the listener. No coloration what so ever. This is part of the reason why magazine reviewers and audiophiles all over the world prefer TARA Labs cables over all others. The Zero Evolution interconnects and the Omega Evolution speaker cables are certainly the world's best high-end audio cables. (And they're not even our flagship cables…Imagine that!)
Just click "Evolution Comments" to see some of the comments reviewers have written about them.

TARA Labs celebrates their 30 year anniversary with "The 30LE" audio cable!
TARA Labs has created this exceptional interconnect in celebration of our thirty years in business. The 30LE is a limited edition cable with only thirty cables being manufactured. Every cable is hand-crafted in Oregon, USA. The 30LE will offer the listener a cable that has superb high-frequency extension, as well as being exquisitely revealing of low level ambient and spatial information. You will hear an impressively low noise floor, pin-point imaging with complete absence of distortion. An equally impressive soundstage, as well as musicality is present in its overall sound. The 30LE comes complete with TARA Labs legendary HFX Floating Ground Station System.
RCA or XLR termination
All Teflon air dielectric spacers and center tube
Twin axial-design features RSC Gen2 conductors using Aero-PTFE dielectric
HFX Floating Ground Station System
Extremely open and detailed
Expansive soundstage and linear with sound
Beautifully clear, crisp and precise
Exceptional low noise floor
Three dimensional soundstage with palpable images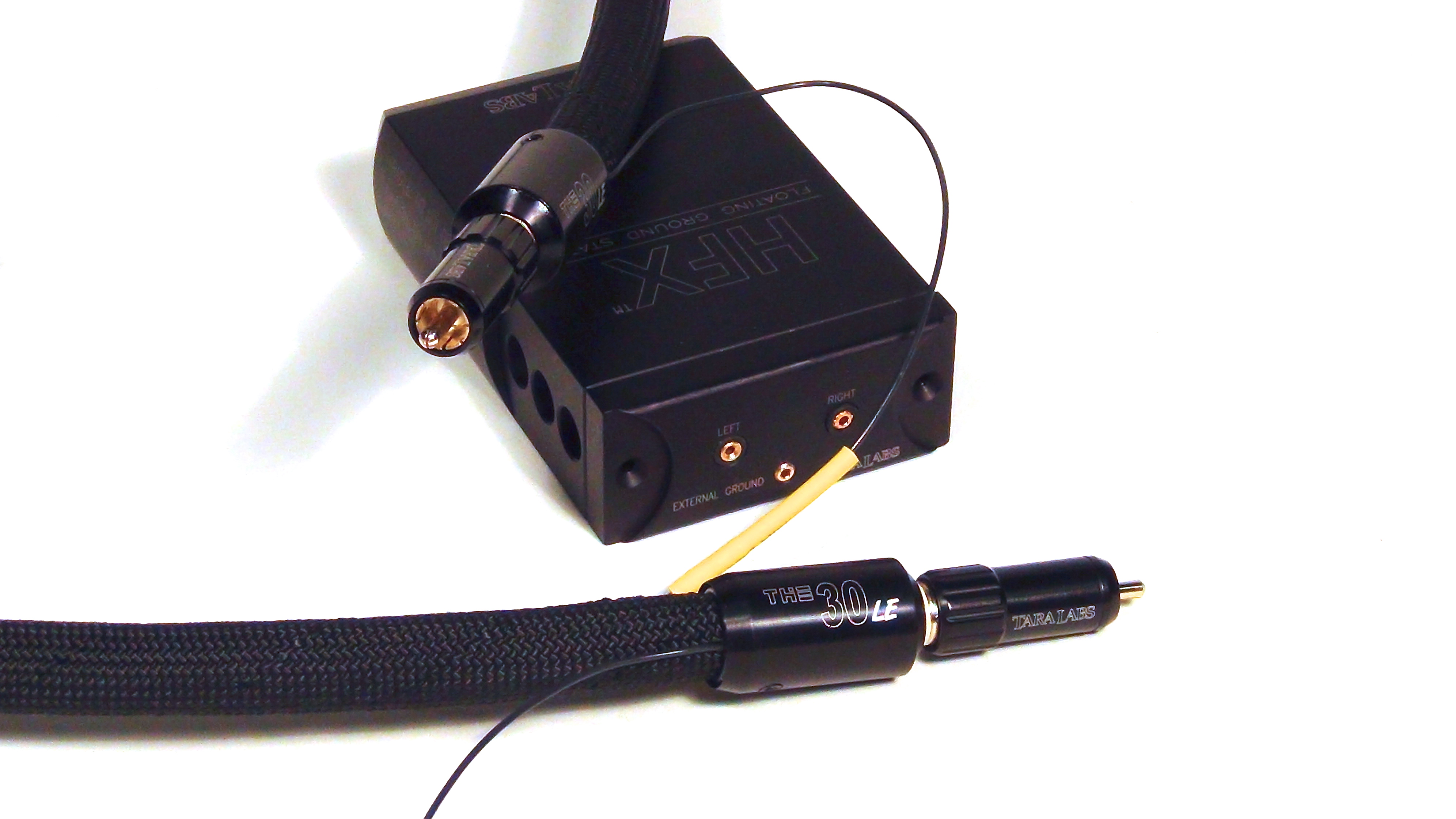 This phenomenal interconnect will only be available through TARA Labs. Please contact if interested.
Customer Service… to be proud of!
(Recent letter we received from a customer)
Please let all the personnel know that I fully appreciate the quality of their products, the expert work they do and the patience and time they take to do it. I know fully well that no one in your company would ever do less than the reputation of your company demanded.
You had every right to share my e-mail with them. In doing so they know they are under absolutely no pressure from me to expedite their craft to save a little time. They certainly know that the best cannot be rushed to be the best it can be.
As always, I cannot express my thanks enough to you and your wonderful staff. I have never experienced such superb customer service from any company and that includes car dealers from Honda to Toyota and BMW and high end audio manufacturers, although some have come close but are still not on your level.
Your standards are exemplary for the industry. I do not understand why any serious audiophile would ever consider any cable products other than Tara Labs!
I do not wish to forget Merrill, of course. He has extended his generosity to me twice now of course. It is not often that the President of a company extends himself on a personal customer level.
Thank you so much again. If I lived in your area I would treat you all to a dinner at the restaurant of your choice!
Sincerely and with the Kindest Regards,
Bob Nowinski
Your dear friend and satisfied customer in TN
TARA Labs 2016 Press Release:
The Apollo Series, The Muse Interface, The Zero Gold G2, "SP" Speaker Cables
APOLLO SERIES: It's 2016, and TARA Labs is very excited at presenting an introduction to our newest line of entry level high-end audio cables. In mythology, Apollo was one of the twelve mythological deity gods that were worshipped by the ancient Greeks and Romans. Apollo was the god of music, poetry, healing and light amongst other virtues he was endowed with. TARA Labs has taken that inspiration from this mythology as well as what Apollo represented, and named our new line of audio cables for those very qualities that made him a god to the ancients.
Apollo Series cables will represent a new era in entry level products for TARA Labs.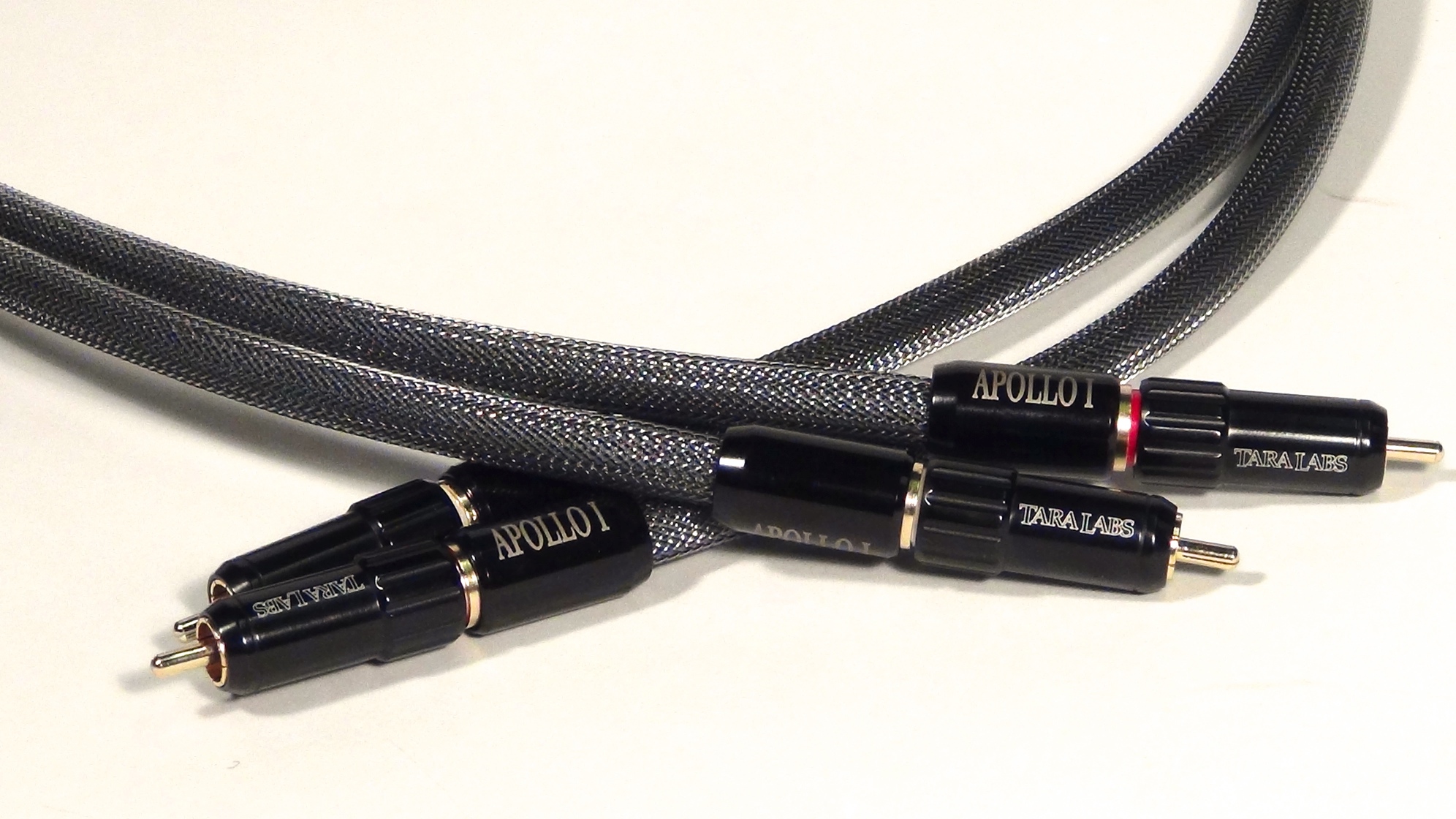 We developed this brand new concept for the Apollo, keeping in mind the relationship they will have with their counterpart components. In electronics, we sometimes refer to trickle-down technology. At TARA Labs, we make full use of this term by incorporating numerous technological advances and designs from our higher-end reference cables into the Apollo Series audio cables. Compared to the TL series, Apollo cables have a more coherent construction and design which translate to a substantial enhancement of soundstage, high frequency extension, spatial cues, improved noise floor, as well as enhanced musicality.
The Apollo speaker cables construction now includes our proprietary BSM termination (Banana/Spade modules). So instead of soldered on spades or bananas, you can now switch the termination at will with little effort on your part. This bodes well with the numerous components that require either or both terminations. The Apollo interconnects are also available with either RCA or XLR termination. In addition, the Apollo Series cables will offer an audiophile a musical experience that is easily comparable to cables costing many times more their price! We would venture to say "Get a $1000.00 upgrade to your audio system for around $200.00"
The Apollo Series cables will be replacing our current line of entry level cables, The TL Series.
THE MUSE INTERFACE: TARA Labs has been at the forefront of design & technology for thirty years. In that time, TARA Labs has been credited with numerous "first inventions" in the field of high-end audio cables; Rectangular Solid Core (RSC), vacuum dielectric technology (VDT), and now we are introducing the advent of a fantastic new product known as: The Muse Interface.
If you could improve the sound of your audio system, what would that be?
Would it be a more expansive soundstage, less glare or stridency, more musicality?
There are literally thousands of component models available in the audio marketplace. And many of these components when combined together, will not offer that symbiotic relationship and sound that audiophiles are looking for? TARA Labs has always been at the forefront of technological advances in this industry, and our high-end audio cables have brought many a system close to "perfection."
In an effort to expand our product line to bring audiophiles closer to the "live-sound", TARA Labs is now introducing The Muse Interface Sound Enhancement System. You can now add this incredible technology to your audio system and improve your sound like never before! And it works with any audio system or audio cables regardless of brand. The Muse Interface can be connected to any RCA or XLR cable termination, and what you'll experience is a lower noise floor, wider sound-stage, more presence, mid-range warmth and richness, as well as enhanced musicality without sacrificing detail and high frequency extension. A sound that is more coherent and natural, bringing you closer to the "live-experience" like never before!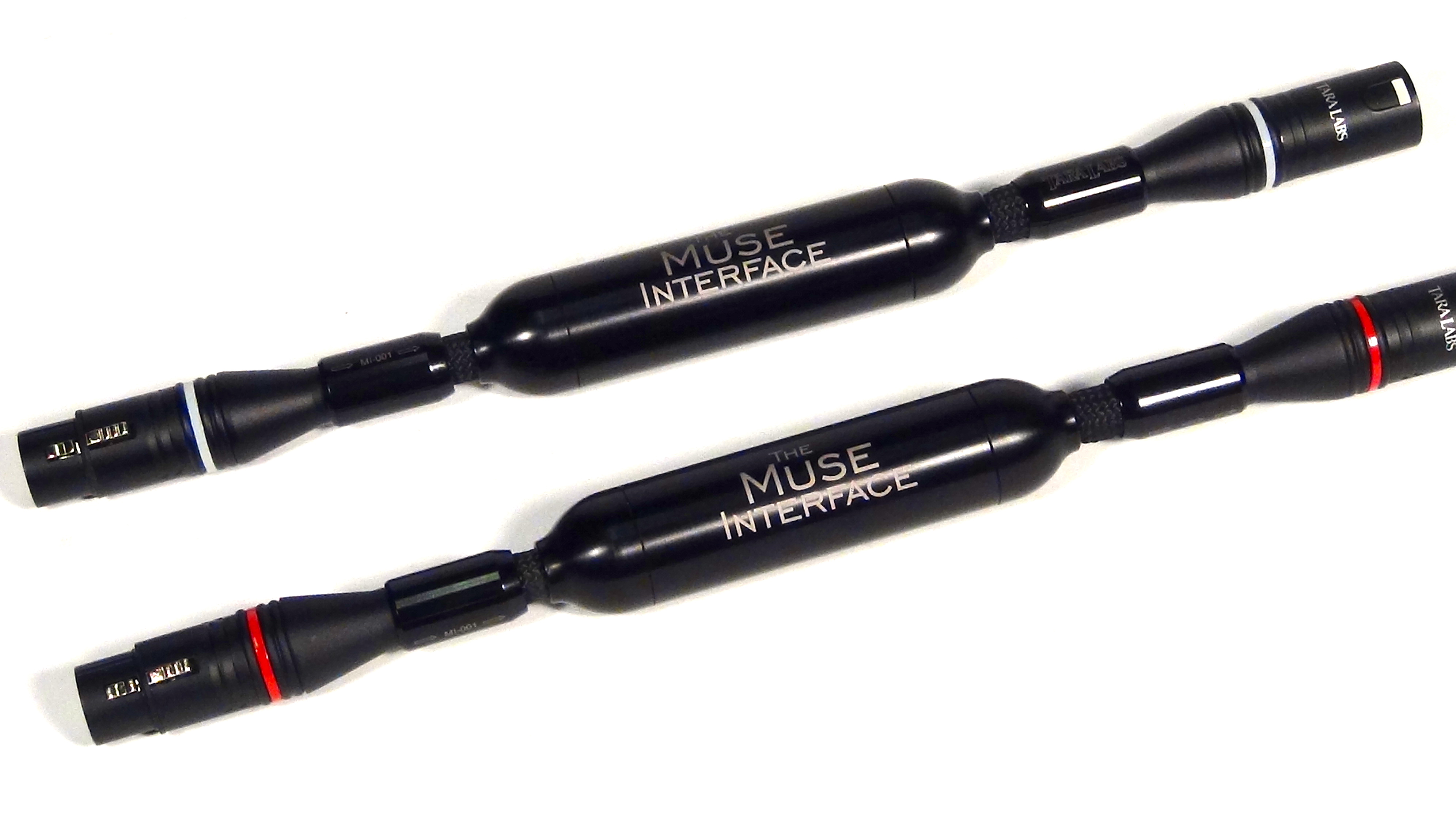 *The Muse Interface is especially recommended for systems that have wide-bandwidth electronics (with limited filtering*), or with systems that use loudspeakers that have a tonal balance that emphasizes the high frequencies, including systems that are slightly etched sounding or overly detailed, perhaps with a sense of glare or stridency. In addition, we have found that when used with high-end audio systems, the effects become more apparent. Meaning the better the audio system, the closer you'll become with that "perfect live sound"
The Muse Interface is unlike traditional shielding methods or filter networks. Even complex shielding methods still remain in proximity to the conductors, thereby distorting the audio signal. Filter networks in boxes at the ends of the cables often contain low quality resistors, inductors and capacitors to perform the filtering. These reduce RFI/EMI in the cable itself by being soldered in series and parallel between the signal conductors. This alters the integrity of the signal, in particular, the higher order harmonic structure. Using The Muse Interface, RFI/EMI is dissipated and absorbed within the Muse technology. This function occurs in isolation from the signal conductors. The signal path is not cut and fitted with additional components. The Muse Interface is extremely effective in eliminating the noise of RFI/EMI without the attendant high-frequency anomalies of filter networks. This translates into a sound that is closer to live than ever before.
THE ZERO GOLD G2 (Gen2): One of the most successful audio cables of all time is the original ZERO Gold Interconnect from TARA Labs. The original ZERO Gold was praised for its breakthrough performance. In the Gen 2 design, technology has literally been borrowed from the famous and more expensive ZERO Evolution Interconnect. Available now is the ZERO Gold Generation 2 Interconnect at a lower price with complete flexibility and better performance than the original ZERO Gold. The breakthrough improvements include greater bandwidth and a completely new and proprietary air-dielectric construction. TARA Labs first introduced air dielectric interconnect cables in 1986; 30 years ago. And instead of using round conductors in air-tubes, TARA Labs uses Rectangular Solid Core® (RSC®) conductors which are 'seated' inside small air-tubes™. The new Zero Gold G2 makes full use of this technology.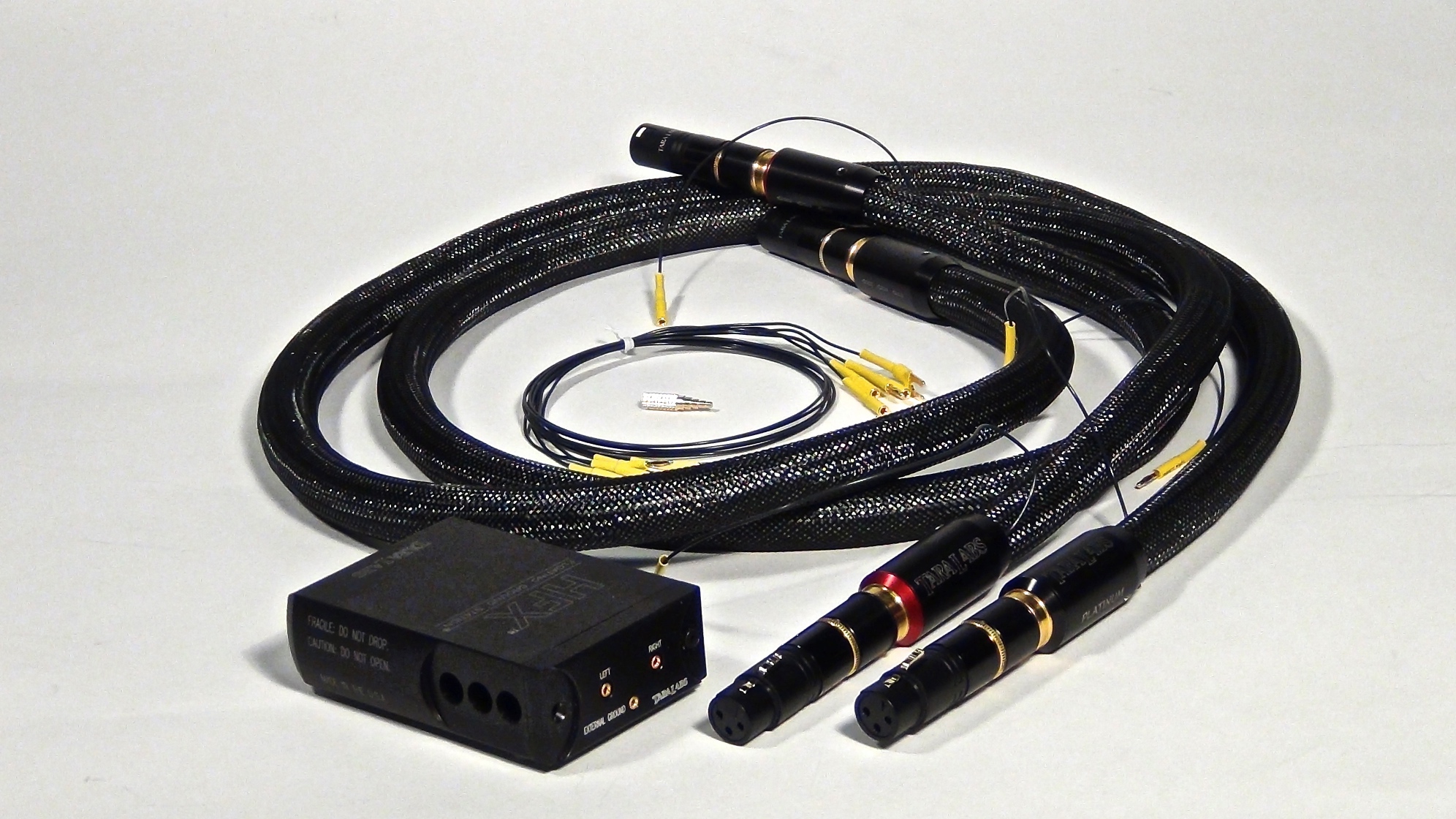 The new Zero Gold G2 will offer the listener an audio cable that is absolutely fabulous! Extremely low in capacitance at 3 pF, with a sound that can be described as holographic. Exceptional high-frequency extension and detail, expansive soundstage with spatial cues with a bottom end that is rich and full of bloom, in addition to a substantial low noise floor. This interconnect is simply astounding for the price. And for audiophiles who remember the original Zero Gold, the flexibility of the new Zero Gold G2 will simply amaze them.
TARA Labs "SP" Speaker Cables: As the loudspeaker cables carry much higher signal voltage and current into a non-linear impedance (the loudspeaker) the reactive load of the loudspeaker can be difficult for some amplifiers to drive... and the all-important damping factor of the amplifier does change from amplifier to amplifier. The phenomenon is readily apparent, heard as bass that is soft and low in amplitude, sometimes together with high frequencies that are too smooth or rolled-off, in addition to a loss of musicality. However, when these amplifiers are connected with TARA Labs 'SP' speaker cable models, the output of some high-end loudspeakers instantly becomes audibly improved at variable frequencies. One of the great attributes of the TARA Labs 'SP' speaker cable models, are the 'state-of-the-art' technology and design that was created by TARA Labs. Their performance level is absolutely spectacular when matched with the majority of high-end audio components available today.
TARA Labs 'SP' cable models are now available in the Evolution series cables; Air Forte, Air Evolution, Omega Evolution and he Grand Master Evolution.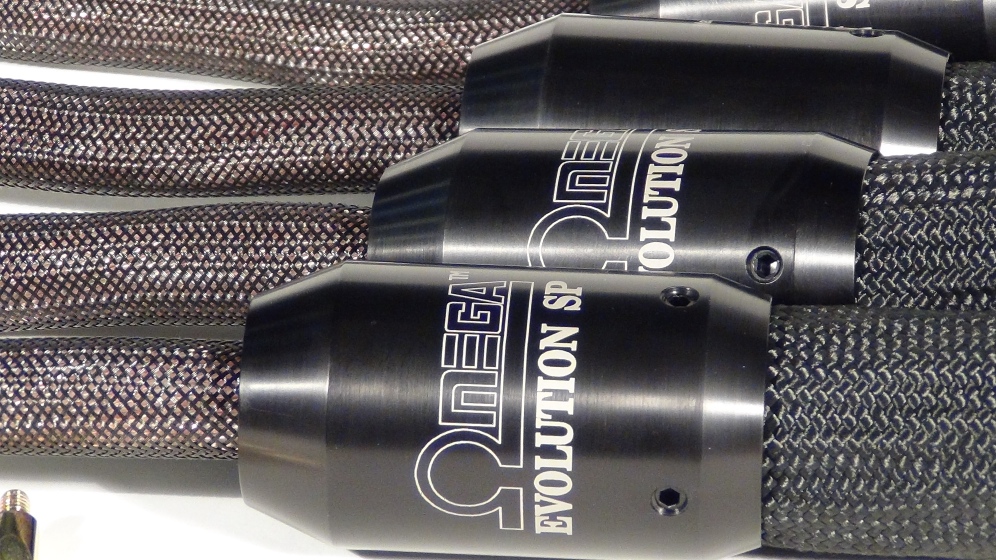 Evolution Series Audio Cable Pro-Reviewer Comments!
"I've heard nothing like it," (Zero Evolution interconnect & Omega Evolution Speaker cable) – Michael Fremer / Stereophile 2014 Recommended Components
" … the new, finally flexible Zero Evolution takes the sound to another level of liquidity, transparency, and limitless high-frequency extension." – Michael Fremer / Stereophile Magazine 2014
"Best speaker cable I've ever heard!" (Omega Evolution) – YK Chan / Audiophile 2014 magazine Hong Kong
"This new cable (Zero Evolution) has the fastest, cleanest transient I've come across, with absolutely no grain or edge marring its excellent delivery. Every frequency is perfectly aligned and that allows transient edges to come into view, revealing fine details of texture." - Marshall Nack / Positive Feedback Online, Issue #81, 2015
"The new physically flexible TARA Labs Omega Evolution, incorporating almost twice as many rectangular, solid core, "8 nines" oxygen free copper elements…. Adds the speed, transparency, dimensionality, and especially textural suppleness…." - MF/ Stereophile Magazine Recommended Components 2014 Fall Edition
"I think this is the most beautiful sound I have ever heard from a speaker wire" (Omega Evolution) – HIFI Shou / Chen 2015
"The most beautiful sounding speaker wire; TARA Labs Omega Evolution" – HIFI Shou / Chen 2015
"Air Evo transients are sharp edged and fast, as fast as any cable I've come across." - Marshall Nack / Positive Feedback Issue #77, 2015 (Air Evolution interconnect)
"The TARA Labs Air Evolution Interconnect with EVO Floating Ground Station is advertised as completely neutral and absolutely revealing with high frequency and airy detail that is not found in comparable audio cables." It is certainly neutral, revealing, and loaded with detail" - - Marshall Nack / Positive Feedback Issue #77, 2015 (Air Evolution interconnect)
"I am even more amazed and impressed now than I was at the time of my first post. These cables are so transparent and dynamic it is almost frightening. Furthermore, they present a huge soundstage, in particular the depth is unbelievable" – What's Best Forum / 2014
"The bottom line is TARA Labs new Air Evolution cables are out-sized performers and offer a big bang for the buck. Highly recommended without reservation for those shopping at this price point." -- Marshall Nack / Positive Feedback Issue #77, 2015 (Air Evolution interconnect)
"The soundstage was phenomenal in depth. The stringtone was oh so sweet and at the same time the micro details in the recording were brought alive so easily and beautifully; I have never heard this recording sound so impressive before. In short, the Taralabs grandmaster cables are by far the best loudspeaker and interconnect cables I have ever experienced in my audiophile journey of more than thirty years. I urge everybody who is in the position to do so to give these Taralabs cables a listen: they are imho phenomenal!" – Audiocrack / 2014
"The Platinum Eclipse is, as I previously wrote, the company's best cable, but the new, finally flexible Zero Evolution takes the sound to another level of liquidity, transparency, and limitless high-frequency extension.- MF / Stereophile
"The Omega Evolution speaker cable is as perfect as any cable could be. Blending a remarkable soundstage with instruments hanging delicately in space and absolute neutrality allowing every nuance to shine though. Truly a platinum standard for both tube and solid-state systems alike." – Carl Jerrits/ Apex Audio
"When I swapped my reference wires for the TL-2/14 and the TL-201 I was surprised at how clean the sound was. The background noise, or better, the electronic hash in the background, was vacuum cleaned. Such a canvas was perfect for the TARA Labs to start painting their sonic pictures. I liked the exciting lower bass to midbass where instruments like electric bass guitar, kick drum or timpani have their fundamentals – it was contoured and full of energy, something that is rare in this price category" – Audiodrum magazine review 2014
"The mids were tonally brilliant and seamlessly extended to pure and soaring highs. Triangles, flutes or blazing horns had both romanticism and bite, both emotions and technical perfection" – Audiodrum magazine review 2014
"I was blown with the soundstage that was rendered by the cheap TARA Labs cables. Realistically proportioned, with width and depth without any restrictions, totally fluid in its expanding wholeness – simply breathtaking in this category of products" – Audiodrum magazine review 2014
"The full-blown Zero Evo effect is dramatic, like you have on X-Ray goggles and can see how the whole thing is organized. It's defined to the max in all directions—left to right, front to back, up and down—and detailed, detailed, detailed." - Marshall Nack / Positive Feedback Online, Issue #81 2015
"… not even the tiniest square footage, is blurry or vague. Detail builds upon detail. Every instrument has its own space and fits in with no overlapping, like pieces in a 3-D puzzle. The thing is so solid and images are so precisely positioned it has the aspect of a large piece of aural sculpture." - Marshall Nack / Positive Feedback Online, 2015 Issue #81
"Generally speaking, today's audio cable products fall into two camps: those that emphasize beautiful sound and those that strive for ruler-flat neutrality. But what's really needed is a mutant breed that is able to deliver on both fronts. That's where the new TARA Labs Zero Evolution interconnects fit in. This cable is decisively in the neutral camp. However, it has unsurpassed timbral fidelity and characteristics like liquidity and ease, all of which I associate with the musical camp. But the beauty of their sound does not impair their passing an incredible amount of information." - Marshall Nack / Positive Feedback Online, Issue #81
"The Evolution upgrade adds the rich textured midrange of the Stealth Sakra, while continuing to produce faster attacks, longer sustains, and deeper decays" – MF Stereophile magazine #Vol 36
""…More precise note attacks from top to bottom, greater textural nuance, suppler and more precise bass" – MF / Stereophile magazine Dec. 2015 (regarding Omega Evolution SP speaker cables)
"The go-to wires for my system when it's not hosting review gear are TARA Labs Zero Evolution interconnects" – MF / Stereophile magazine Dec. 2015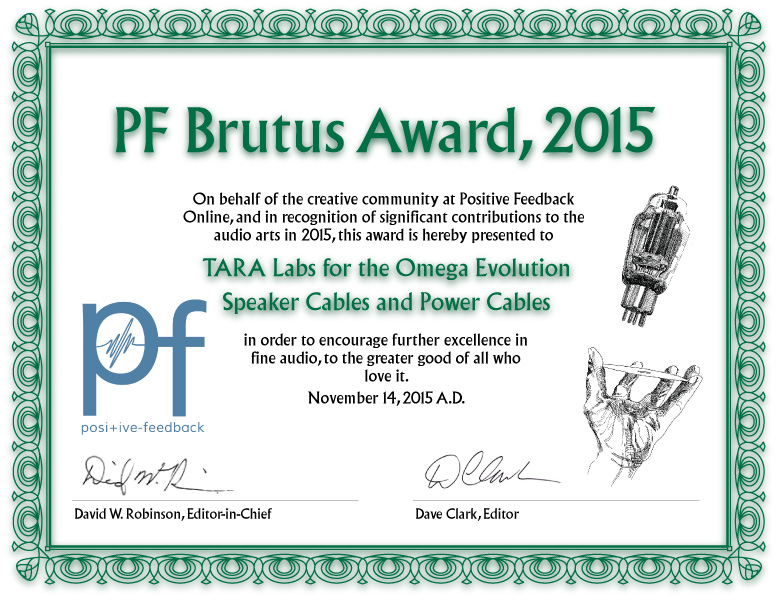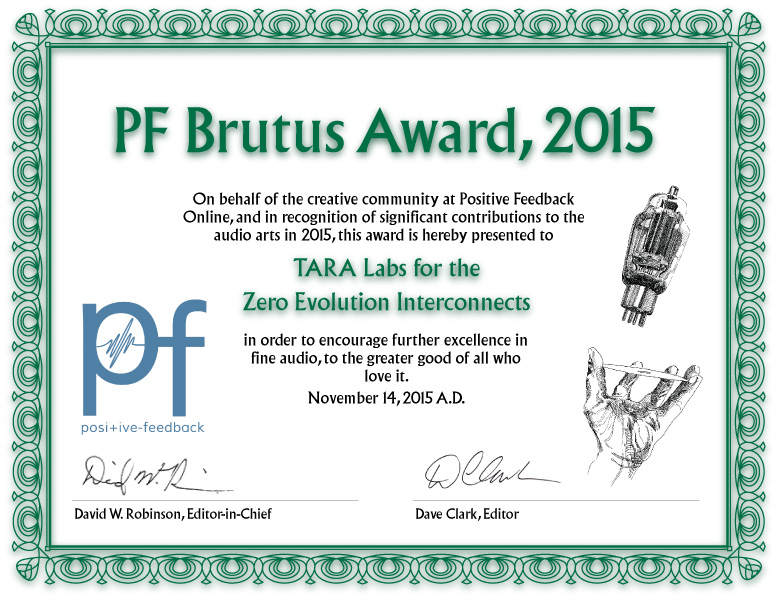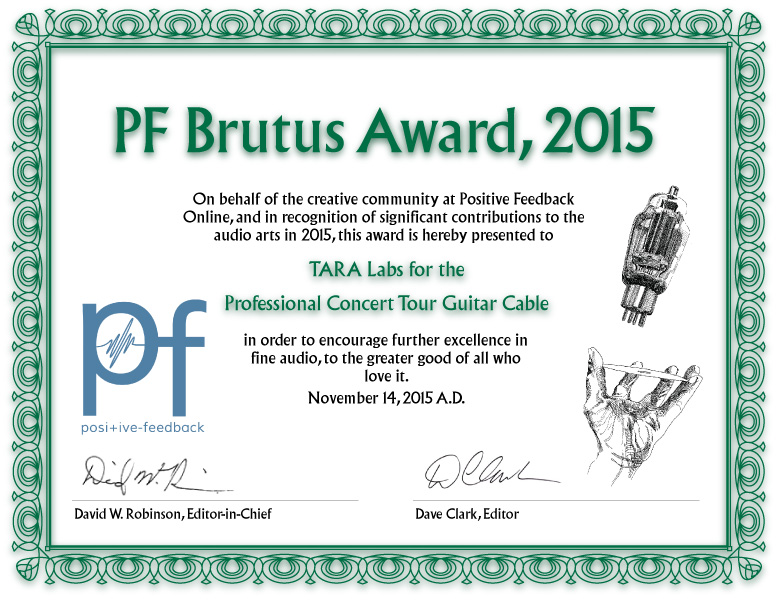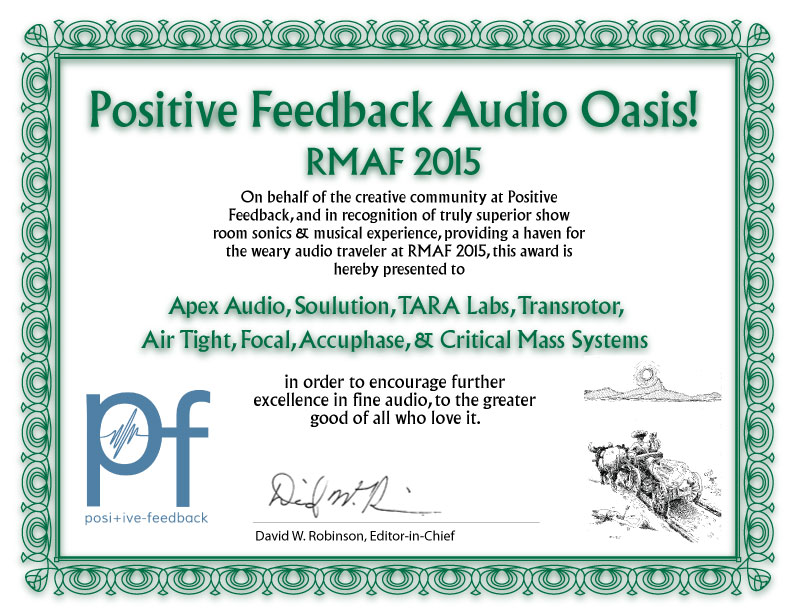 ---
Counterfeit Warning: Attention TARA Labs Customers!
Please contact TARA Labs for the location of one of our official distributor/dealers, where you can purchase official USA hand-made TARA Labs cables. Please be warned that there are cable counterfeiters all over the world, who claim to have, and offer official TARA Labs cables. These criminals manufacture and design fake TARA Labs cables, and sell at discounted prices. What a customer buys when dealing with them, is not a hand-made, lifetime guaranteed, official TARA Labs cable that is backed by almost thirty years of excellence. What they get is a cable that looks like a TARA Labs cable on the outside, but sounds horrible on the inside. The money you just spent on these counterfeit cables is lost!
These counterfeiters have not only targeted TARA Labs cables, but other high-end quality audio cable manufacturers as well.
Please contact us before you buy any TARA Labs audio cables.